BeeBAGZ was founded with a clear mission in mind: to clean up the planet one bag, one zero-waste product at a time.
Did you know that over half of all plastics created are single-use? This means they're used for an average of 15 minutes, but they stay on the Earth for centuries. And roughly 60% of plastic waste comes from households — so changes we make in our homes can have a real impact.
The founder of BeeBAGZ used Beeswax wrap for years in her own kitchen, eliminating the need for plastic wrap. One day, while packing her kids' lunches, she had an idea. What if there were resealable beeswax bags to replace single-use plastic bags? That way, she could keep her kids' lunches healthy and fresh while reducing her family's plastic use.
When she couldn't find anything on the market, she decided to make them herself.
BeeBAGZ creates reusable, zero-waste Beeswax bags. BeeBAGZ give you the convenience of plastic bags, with none of the waste or harmful ingredients. They're made with 100% cotton, double-stitched to help them last. Each bag is coated with a blend of sustainably-sourced beeswax, organic jojoba oil, and tree resin.
This unique combination helps food stay fresh longer. So your apples stay crisp and your bread stays soft —and you can reduce your food waste. BeeBAGZ also makes BeeWRAPZ, FireSTARTERZ and BulkBAGZ to help you cut down on single-use plastic around the house.
Using BeeBAGZ is simple. Place food inside the bag or wrap, then seal it with the warmth of your hands. After use, you can clean your bag with gentle soap and warm water and let it air dry. With proper care, BeeBAGZ last up to a year. Then you can repurpose your bag or add it to your compost pile — leaving no waste behind!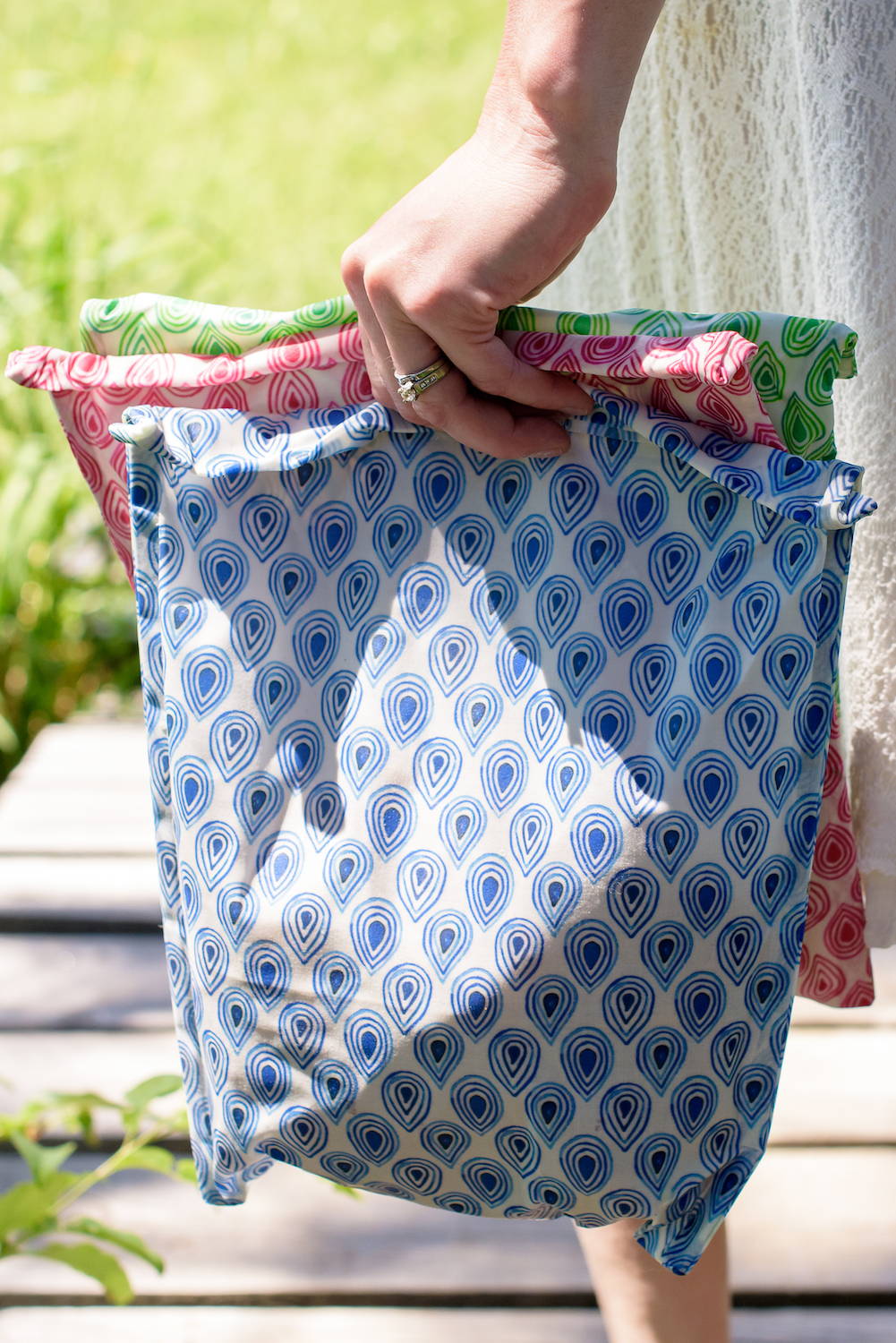 BeeBAGZ is based in Huntsville, Ontario, Canada. Huntsville's lakes, hills, and scenic green landscapes inspire the BeeBAGZ team in their work to care for the planet.
We love BeeBAGZ for their deep commitment to sustainability. The company works to eliminate waste in all stages of production and constantly strives for innovation.
While recycling plastic into new products is a good thing, we also need products that remove plastic from the waste cycle completely. So we love that BeeBAGZ are all-natural, reusable, and have a minimal carbon footprint. BeeBAGZ's goal is for their products to return to the Earth at the end of their life cycle.
And we love BeeBAGZ's focus on simple changes. At Lochtree, we believe that small choices add up to make a big impact — and BeeBAGZ is a perfect example of how true that is!
How They're Impacting the World
Since their founding, BeeBAGZ has helped to divert over 1.3 million single-use bags from landfills and waterways. And that number continues to grow.
BeeBAGZ also gives back to the planet. They give locally to the Turtle Guardians, an organization working to save turtles and their habitats. On a national level, BeeBAGZ gives to the David Suzuki Foundation, a non-profit conservation project. And they're a proud member of 1% for the Planet, a global organization focused on environmentalism.
In the future, BeeBAGZ plans to continue developing more packaging solutions to help reduce single-use plastic waste. They're also working to become a recognizable name in the market — they believe their business can be a powerful vehicle for social change.
Lochtree and BeeBAGZ are passionate about caring for the planet and fighting pollution. Our oceans, forests, and wildlife need our help.
Two ways you can make a difference are by reducing plastic and food waste. Single-use plastic waste only takes seconds to create, but hundreds of years to break down. And food waste is one of the biggest contributors to greenhouse gas emissions worldwide.
Here are a few ideas to help you get started:
Focus more on plastic-free swaps and less on recycling — since less than 10% of single-use plastics are actually recycled into new products

Take time to think about what you what you use in your household

Store food properly and find ways to reduce the food you throw away

Compost fruit and vegetable scraps

Choose plastic-free storage options like BeeBAGZ to help shrink your carbon footprint
Conversations On Sustainability Podcast
---