Gentleman Farmer was born out of the meeting of two worlds. When Maude, a veteran of the NYC beauty industry, met her husband, their personal care routines collided. Like many men, Maude's husband had always used bar soap for everything — face, hair, and body. He loved the tidy shower shelf and low-maintenance routine.
When Maude moved upstate to join him, she brought an entire arsenal of beauty supplies. At first, her husband wondered what all the fuss was about. After trying them out, though, he realized these higher-end, targeted products made a difference in how he looked and felt.
But there was a problem: none of the products spoke directly to him. And many of the big beauty brands used wasteful packaging and iffy ingredients.
That's when Maude started imagining a brand made for the modern guy who still knows how to get his hands dirty. She saw the need for products that marry simplicity and sustainability. Like her husband, she knew that many men wanted products that offer a premium grooming experience while keeping the environment (and the shower) clean.
And Gentleman Farmer was born.
Gentleman Farmer is a men's grooming brand dedicated to clean, high-quality, mindfully-crafted products for values-driven men.
Though not farmers themselves, Maude and her husband love the country life. To create their products, they drew on their appreciation for locally-grown food, tight-knit communities, and a connection to the earth.
Their products include hand-poured candles, luxury shaving cream, and hair & body wash. Each product contains curated natural ingredients that nourish the body. And unlike many personal care products, they're made without any harsh or irritating additives. That means no mineral oil, formaldehyde, sulfates, artificial fragrances, or other nasties.
Each product from Gentleman Farmer is thoughtfully packaged and certified cruelty-free. And to help lessen their footprint, they offset the impact of all their products through the CarbonFund.
One of the team's favorite products is their Daily Face Wash. It cleanses gently without stripping the skin. And, as Maude says, the ingredient list "reads like a salad or a smoothie." Like all their products, it's designed for men who get the job done — and who still like to smell good.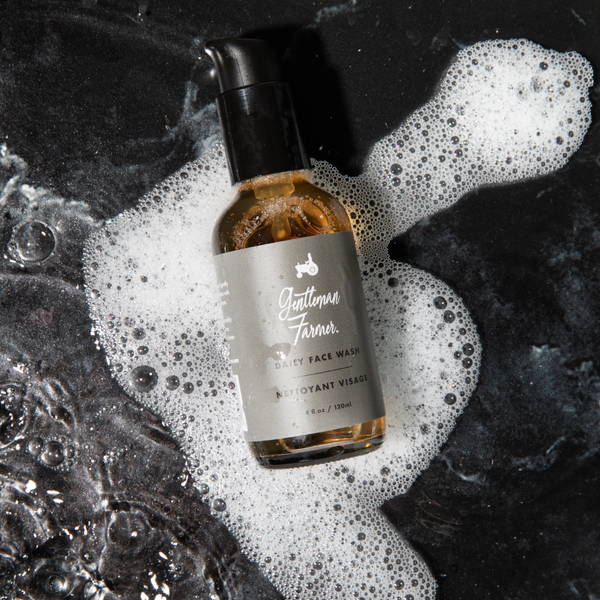 Gentleman Farmer is based in Rochester, New York. Upstate New York is home to beautiful hiking trails, nature parks, and diverse wildlife.
We appreciate Gentleman Farmer's dedication to clean ingredients. And we love that they trace each ingredient to ensure they're grown ethically and sustainably.
Another of our favorite things about Gentleman Farmer is they bring a simple, sustainable solution to an everyday routine: personal care. Not only do their products help you reduce your impact — they also help you look and feel your best.
Finally, we love that Gentleman Farmer does everything they can to make the world a better place within their sphere of influence. Small brands may not have the reach to do everything, but Gentleman Farmer shows that they can still have a meaningful impact.
How They're Impacting the World
The Gentleman Farmer team has a bone-deep commitment to sustainability. They think through their product's entire life cycle and never cut corners. Each ingredient in their products is carefully selected to be kind to people and the planet. And they always strive for transparent, ethical sourcing.
Gentleman Farmer also does everything they can to use responsible packaging with a low footprint. Many of their products come in glass or aluminum, so they're indefinitely recyclable. For the hard-to-recycle components, they partner with Pact Collective offer free send-in recycling — for other companies' products as well as their own.
Another key way Gentleman Farmer impacts the world is by giving back. Some of their philanthropy partners include the Pollinator Health Research Fund, Foodlink, One Tree Planted, and the National Young Farmers Coalition.
In the future, the team at Gentleman Farmer plans to continue creating top-quality sustainable products. They also hope to create content to raise awareness about sustainable agriculture practices that promote health for us and the environment.
You can join with Gentleman Farmer in their mission to care for people and the planet by:
Considering the impact of products you use

Learning more about sustainable farming

Composting when you can

Signing up for a CSA near you

Choosing clean, low-waste personal care products
---
Products by Gentleman Farmer