Tru Earth® was founded by three friends: Ryan, Brad, and Kevin. One morning, Ryan was watching YouTube Kids with his children when he realized something: these videos were full of plastic. Plastic toys, plastic packaging, and tiny plastic parts. This got him thinking about the planet and his kids' futures. He thought, "This plastic is just about convenience, but what if there's a way to make sustainable packaging convenient?"
So he called up his friend Brad — a serial entrepreneur with an eco-conscious background. Brad's relative had recently patented an eco-friendly laundry detergent. It packed all the power of a bulky detergent jug into a box the size of a smartphone. Skeptical but curious, Brad, Ryan, and their friend Kevin tested the detergent for themselves. They all came to the same conclusion: it worked!
The friends decided to team up to share their discovery with the world. With a barebones operation, they set a goal to get 150 subscription orders within 30 days. By the end of the month, they had 1500 new subscribers and a bright vision for the future. The team at Tru Earth® believes that people want to make good choices for the planet and find eco-friendly products that actually work. They just need a convenient way to begin. And an easy place to start is by changing the way you wash your clothes.
Tru Earth® Eco-Strips are lightweight, pre-measured strips of liquidless detergent that clean your laundry without any mess or plastic waste. Their unique formula is ultra-concentrated, hypoallergenic, and eco-friendly. They're made without harsh additives, animal-based ingredients, or animal testing.
In North America alone, we wash over 30 billion loads of laundry every year. And conventional liquid detergent uses over 40 grams for a single load. One Tru Earth® Eco-Strip weighs less than 3 grams. So it creates 94% less transportation pollution on its way to your home.
Tru Earth® Eco-Strips are also proudly plastic-free. More than one billion plastic detergent jugs hit the landfill every year. With Tru Earth®, there's no plastic waste — just naturally-effective cleaning strips and a compostable cardboard package.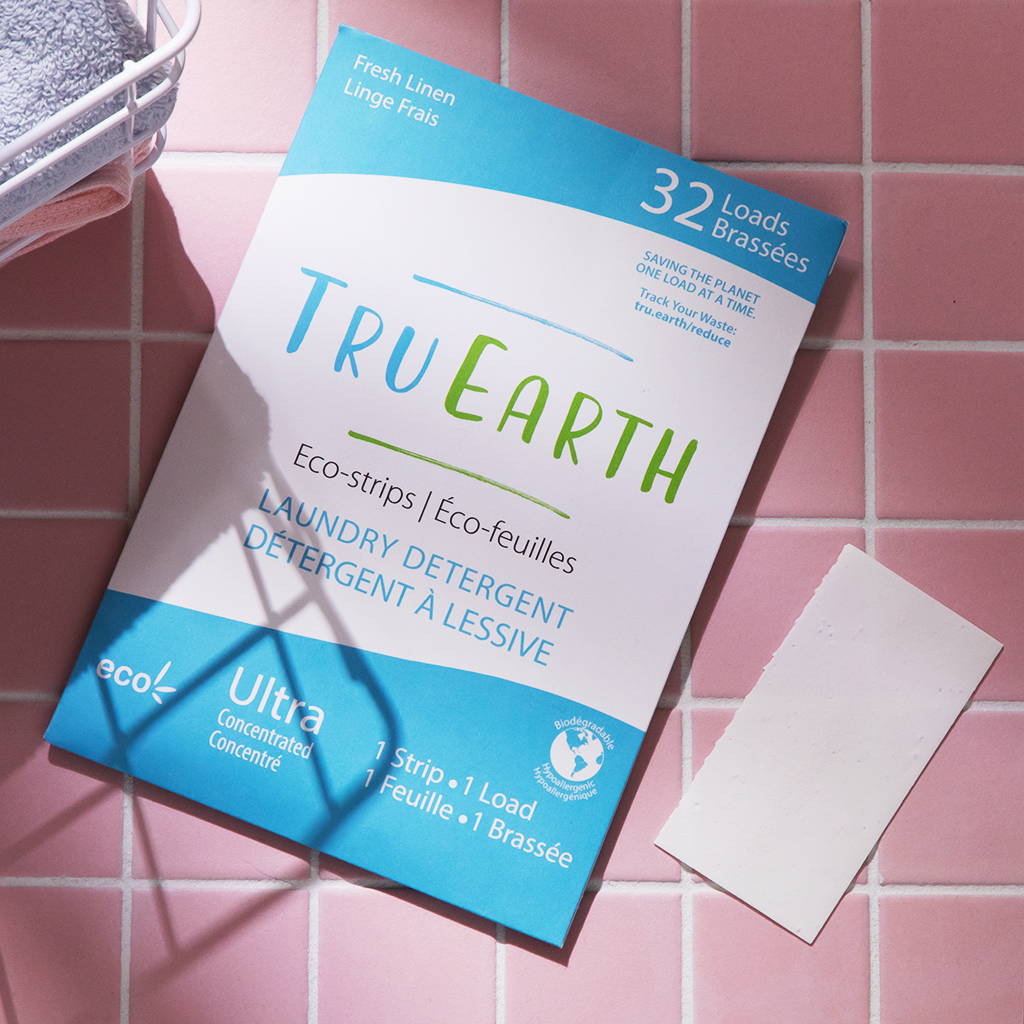 Tru Earth® is based in Vancouver, Canada, where they enjoy beautiful nature parks, amazing waterfront views, and breathtaking sunsets.
We love that Tru Earth® makes sustainability convenient. At Lochtree, we believe that convenience doesn't have to come at the expense of the planet. And Tru Earth® is a perfect example of that philosophy!
We also appreciate how Tru Earth® helps protect our water resources. Since Eco-Strips are liquidless, they save water in the production process. They also help keep harmful chemicals and additives out of waterways.
And we love the deep commitment Tru Earth® has to giving back — to the planet, to their community, and to people around the globe.
How They're Impacting the World
Since their founding, Tru Earth® has already kept over 5 million plastic jugs out of the landfill. The company also works to track resource use in all areas of their business so they can reduce waste. They recently cut their carbon emissions by updating their distribution channels and increasing their packaging's post-consumer paper content.
They've also donated 9 million loads of laundry detergent to organizations in their community and worldwide. During the COVID-19 pandemic, they noticed a shortage of laundry detergent in stores and realized that food banks must be experiencing the same shortage. Now, Tru Earth® donates to food banks, hospitals, BIPOC organizations, and others — helping provide the basic need of clean clothes.
In the future, Tru Earth® plans to fight the spread of plastic pollution, become carbon neutral, and continue working to make lasting change that helps save the planet.
You can join Tru Earth® in their mission to eradicate plastic waste. The Tru Earth® team often says that many small hinges can swing very big doors. And we couldn't agree more!
To help reduce waste in your laundry routine, you can:
Wash your laundry on cold

Wear clothing more than once between washes

Choose HE machines when possible

Line-dry laundry indoors or outdoors

Switch to Tru Earth® Eco-Strips
---